Haeger Pottery: Facts & Tips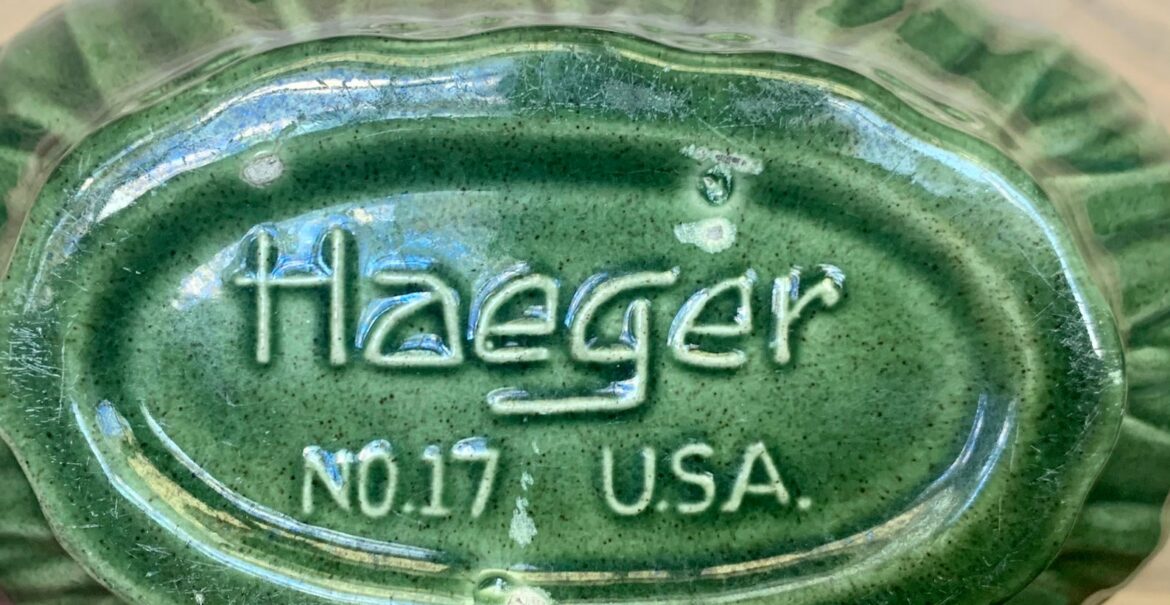 The first, most notable thing to know about Haeger pottery is the versatility of the potteries made by the company. While other American potters focused on producing mainstream potteries with sophisticated designs, Haeger pottery chose to design the mundane as sophisticated.
Deciding to steer clear of utensils and dinnerware, Haeger produced decorative pottery that matched each trend. This led to their mass production of unconventional shapes of vases, lamp bases, planters, etc.
Of all things associated with the legacy of Haeger, the most cherished is the shiny black glaze, affectionately nicknamed "Ebony." This glaze popularised many common Haeger potteries, including the shiny black panther used as a table decorator.
History of Haeger Pottery
Haeger pottery was established in the early 1900s by David H. Haeger. However, the company started as a brickyard in Illinois in 1852, making use of clay mined from nearby. In 1871, Haeger assumed full ownership of the brickyard and added tiles to the list.
After the Great Chicago Fire in 1871, Haeger's assistance in providing bricks made them more popular. Also, Haeger diversified into producing works of crystal and glass, and so on. In 1934, Haeger participated in the Century of Progress Exposition and displayed pieces of souvenir pottery.
In 1919, Edmund Haeger created the pottery arm of the family business and called it "Haeger Potteries."
Haeger Potteries' debut pottery collection was called "Adam and Eve." All designs and products were original, high-quality, impeccable, and carefully handcrafted. However, the Haeger Potteries' best seller was their choice of glazes. The luster, richness of color, sheen, and durability endeared Haeger pottery to collectors and artisans.
Together with Royal A. Hickman, Haeger collaborated to form "Royal Haeger," a pottery line of decorative artwork. Items produced around 1936 by Royal Haeger were signed "Royal Haeger by Royal Hickman U.S.A. R-###."
All through the years, Haeger still produced their signature table lamps, desk lamps, and cachepots, figurines, jardiniere, etc. Another breakthrough for Haeger pottery was the popularization of TV lamps in 1950. The early invention served as a model for the TV lamps we have today.
In the 1950s, television was a new and somewhat scary concept, so myths abounded about its harmful effects. For example, according to belief, TV was wrong for the eyes, so placing a TV lamp on top would protect the eyes. While this is false, it earned Haeger pottery a loyal fan base of customers.
How To Identify Haeger Pottery?
To identify Haeger pottery at a glance, first see if there is a sheen or a deep luster in the glazing of the pottery. Although this is not the most reliable means of identifying Haeger pottery, it's one of the first tests you can do.
Another way -the most effective way- of identifying Haeger pottery is the presence of a signature on the underside. Haeger pottery should have a signature underneath the pottery, showing the producer, the place, and the serial number.
Sometimes, some Haeger pottery lack the signatures described earlier; some of them can still be told apart from other pottery. Any good collector will notice the peculiarity of Haeger pottery shapes and choice of glazing.
Where Is Haeger Pottery Made?
The earliest record of Haeger pottery and ceramics being made was started at the Dundee Brickyard in 1871. The Dundee Brickyard in Illinois became the headquarters, with another branch in Macomb, Illinois.
How Is Haeger Pottery Made?
Haeger pottery got its clay from the nearby banks of the Fox River. There's clay was perfect for making inflammable bricks durable pottery.
The mined soil is filtered, and the clay extracted and processed. In all, the basic rules of pottery are applied here, the only exception being the style of glazing and design.
What Style Is Haeger Pottery?
Like many pottery companies, inspiration often came from the Art Deco style of the 1920s.
Haeger's style was somewhat centered around trendy Art Deco bits designed with bold, eccentric colors, designs, and shapes. Usually, Haeger made potteries in sets in unconventional forms, bold striped designs, etc.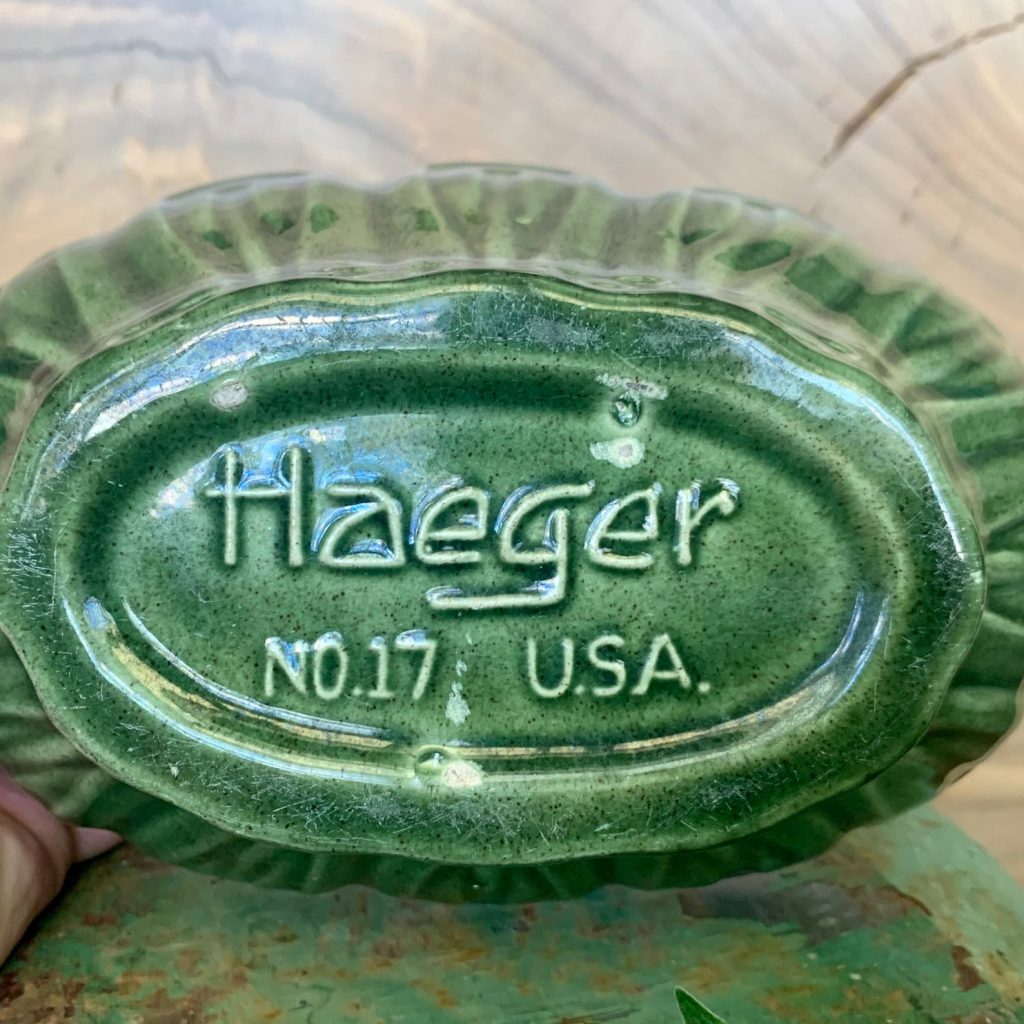 Is Haeger Pottery Food Safe?
Yes. Although many potteries before the 1950s contained lead, strict regulations were followed to ensure customers' safety. As a result, the few dinnerware pieces made by Haeger Pottery are 100% food safe.
Is Haeger Pottery Still In Business?
No. Haeger Potteries is out of business.
The great-granddaughter of David Haeger, Alexandra Haeger Estes, assumed leadership of the business in the year 1979. For 37 years, she ran the company fervently, preserving her family's legacy.
However, on the 6th of April, 2016, after the company experienced multiple bankruptcies, Alexandra announced the end of Haeger Potteries. Thus was the end of Haeger Potteries' long 145 years of reign.
Is Haeger Pottery Valuable?
Yes. Haeger pottery pieces are valuable and fetch a decent amount of money. 
Nowadays, Haeger pottery pieces have graced the shelves of seasoned pottery and art collectors. However, the value is priceless for many who understand the worth of each handmade Haeger pottery piece.
Another thing that adds to the glamour of Haeger pottery is that it lasted for over 145 years. Not many pottery companies can boast of existing that long.
How Much Is Haeger Pottery Worth?
Like many pottery pieces, Haeger pottery usually sells at different prices, depending on the product's size, age, authenticity, and appearance. Depending on one's bargaining power, Haeger pottery pieces can sell anywhere between $6 and $120.
Haeger Pottery is one of America's oldest and most trusted pottery brands. Haeger pieces can bring a classic touch to any decor, but how much are Haeger items worth? It depends on the piece's age and condition and whether it's an antique or more contemporary.
Haeger is known for low-cost items with modern designs, so your Haeger might not be as valuable as vintage porcelain. However, that doesn't mean you can't get reasonable prices without knowing where to look! Haeger pieces often hold their value well if kept in good condition, which means they can be a wise investment over time.
The more common ones are usually cheaper, while older antique pieces sell at higher amounts.
Conclusion
When everyone else wanted to stand out and be sophisticated, Haeger chose a more sustainable alternative. That choice is what has endeared Haeger's pottery in the hearts of many.
For over a hundred reasons, pottery is a favorite of seasoned art collectors worldwide. However, the Art Deco style of Haeger pottery also makes it a valuable asset to archaeology.