Camark Pottery: History, Marks & Pricing Guide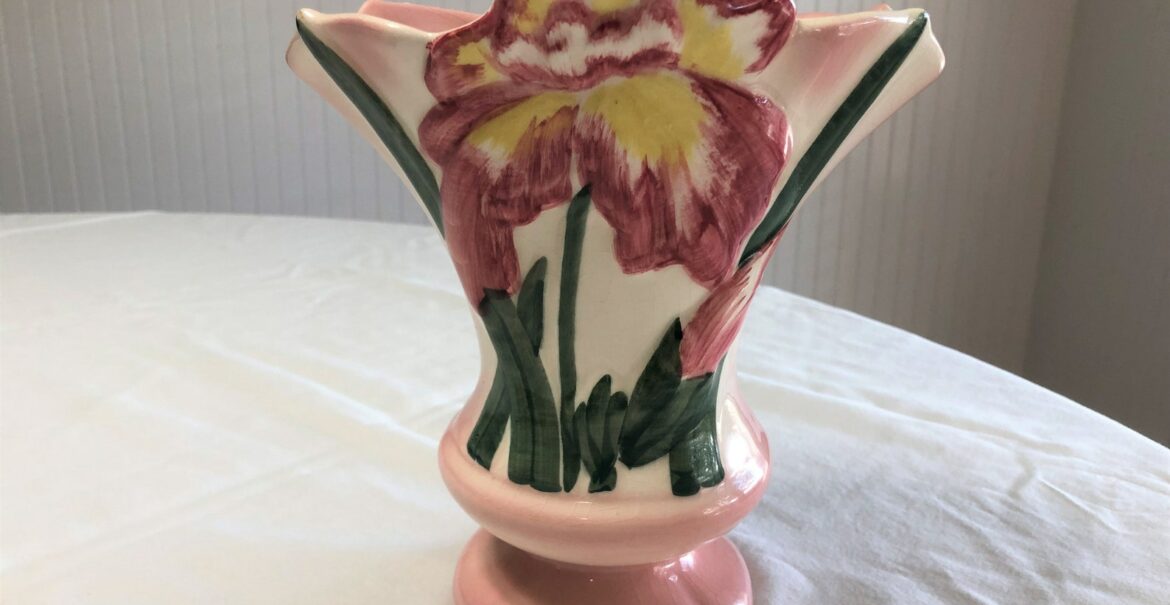 Camark pottery is a form of art pottery that maintained a flexible art and design structure to match the changing times.
Spanning through some of the greatest challenges the world endured, like the Great Depression and World War II, Camark Pottery represents innovative and creative art pottery which served and delivered around the world in its time.
What is Camark pottery?
Camden Art Tile and Pottery Company is known as Camark Pottery. This company is recognized for its industrial ware, which was mass-produced during World War II. Decorative ceramicwares were mostly made with clay acquired locally. Planters, tea sets and bowls, vases, condiment sets, and even wall plugs are among the ceramicwares available.
With over 20 specialists in the art of pottery on staff, the firm was able to create a wide range of patterns, allowing it to outlive other pottery enterprises of the period.
Camark pottery history
Camden Art Tile and Pottery Company was founded in 1926 in Camden, Arkansas, by Jack Carnes, John Lessell, Stephen Sebaugh, and the Camden Chamber of Commerce, with production beginning in 1927.
Arkansas' third and last art pottery factory was Camden Art Tile & Pottery Company. Its name was changed to Camark to include the city of Camden and the state of Arkansas. Camark Pottery quickly established itself as one of Camden's most well-known businesses, with countrywide popularity.
Jack Carnes had plans to get into the local market, so he teamed up with a group of Ohio entrepreneurs and artists to start the company. They held a competition among twenty-five cities for its installation. Camden was chosen to the post in 1926.
At the time, Camden was thriving. The Camden Chamber of Commerce supplied a building and land for the firm, which opened in May 1927. John B. Lessell, a well-known potter from Newark, Ohio, created the first works made from Arkansas clays. These pieces were shipped from Newark to Arkansas and served as the company's first stock.
With two gas-fired kilns, twelve designs, and fifteen employees, the production of more pieces began in the summer of 1927. During the company's first year, twenty-five workers used at least sixty-five molds and 100 patterns to produce up to 500 pieces each day.
Camark Pottery's early iridescent pottery and lusterware solidified the company's place in the American Art Pottery movement while also providing a stable financial foundation. It was the first of three phases of Art Pottery production for the business. With the start of the pottery's second year came the beginning of a new production phase and the first of many personnel changes for the company.
Alfred P. Tetzschner took over and introduced new lines including Futuristic/Modernistic. In 1929, Camark Pottery's operations were stopped. Tetzschner left during that year, and the pottery's commercial success was impeded by the Great Depression's economic difficulties. Several potteries across the country, including the company, began to shift to more cost-effective manufacturing methods.
The focus was shifted away from painters and ceramic decorators and toward unique designs by creative glaze manipulations, ushering in the third period of pottery production. Camark Pottery's output after 1930 consisted primarily of molded pieces with glaze overlays and drips.
Manufacturing began to change to novelty ware, with single solid colors and matte finishes becoming the standard, as changes in the workforce and economic circumstances began to have an influence on the company's financial success. In response to changing client demand for pottery, Andrew Lechner created Camark's first line of hand-painted ceramics in 1939.
While it was a popular line, it was no longer deemed Art Pottery since it lacked originality and was mass-produced in large quantities, causing Camark to lose its place in the Art Pottery market while continuing to manufacture industrial artware. Throughout the 1950s, Camark Ceramics continued to mass-produce ceramics in vivid pastel colors.
It lasted far into the 1960s, thanks to its popular Climbing Cats, salt and pepper shakers, and other novelty products.
On September 25, 1958, the company's founder, Jack Carnes, died in Hot Springs. His wife maintained the firm until 1963, after which she sold the ceramics. The company was established in 1965. Due to internal problems and dwindling profits, production was eventually terminated. The pottery's retail store, which closed in December 1982, sold the remaining stock pieces until the late 1980s. The property is still owned by Camark Pottery, Inc.
When was Camark pottery made?
Jack Carnes founded Camark Pottery in 1926. Only after Mary Daniel, the company's owner since the early 1960s, died in 1983 did production come to an end.
This indicates a significant period of time of manufacturing, spanning the Second World War and the Great Depression.
Where is Camark pottery made?
Camden, Arkansas is the home of the Camark pottery company. Even the clay used in the manufacturing was sourced locally, indicating that it was a local company. It was a product of and from Camden until 1983 when manufacture ceased.
Camark pottery marks. How to identify Camark pottery?
In the late 1920s, the company began using Arkansas-themed ink stamps and paper stickers. In the beginning, gold ink stamps with "Camark Pottery" over a stylized leaf pattern were employed. On the bottom, the word "Camark" was carved, with stickers on the sides and bottom.
Early Camark Pottery pieces had Lessell's signature. They were posthumously marked "Le-Camark" or "LeCamark." Between 1928 and the early 1930s, red and white paper inventory labels with space beneath "Camark" or "Camark Pottery" for writing form and finish numbers as well as the price was utilized.
Camark Pottery began using imprinted patterns or mold markings on the base of items in the 1930s, including the name "Camark" and, in rare instances, "USA" and three-digit figures. Lechner signed numerous of his painted works after 1939. His other products bear the ink mark "CAMARK / HAND PAINTED," which is occasionally accompanied by the words "MADE IN USA."
Starting in the 1940s, some items were given a gold artist palette-shaped label that said "CAMARK / DELUXE / ARTWARE." Camark Pottery made its products out of white or ecru-colored clay. Counterfeit Camark Pottery is frequently lighter than authentic Camark Pottery.
Camark pottery value. Camark pottery price guide
Camark pottery ceramicwares can be affordable and pocket-friendly. According to Etsy, Camark pottery wares can be acquired for prices as low as $20 and the priciest at $175. 
Conclusion
Camark Pottery was able to survive many earlier ceramic firms by understanding their customers and adapting to the various external circumstances they encountered. Camark has been a successful ceramics company in the United States for almost 40 years, outlasting many previous ceramic companies.
Camark was driven into the mainstream of the American art pottery movement by their united efforts, notwithstanding their individual talents.