What is Anna Pottery? Pigs, Snakes & Other Animals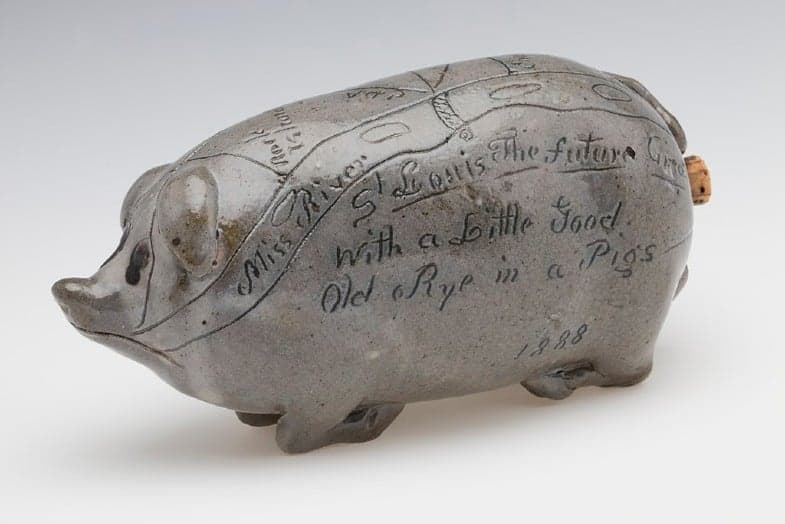 Suppose you are an antique collector or a pottery enthusiast. In that case, you may have already heard about Anna pottery since it is considered as one of the holy grails in the pottery industry. However, what exactly is it, and what are its unique characteristics? 
If you want more valuable information about Anna Pottery, you have come to the right page. In this article, you will learn about Anna Pottery's history, design, marks, and patterns. 
What is Anna Pottery? 
Anna Pottery refers to stoneware pieces produced by the Anna Pottery in Anna, Illinois, during its operation between 1859 to 1886. Their most popular pieces are jugs with a distinct snake decoration and a pig flask. In addition, most Anna Pottery pieces are salt-glazed. As a result, they have purple, blue, or brown finishes. 
The other products produced from the Anna Pottery include the following: 
Jugs
Pitchers
Crocks,
Milk pans
Funnels
Fruit jars
Cemetery urns
Flower urns
Roof tiles
Chimney pots
Fire brick
Arches
Window sills
Drainage pipes
Tobacco pipes
Anna Pottery History
Cornwall Kirkpatrick
Kirkpatrick Pottery is a family-owned and operated pottery company located in Missouri, USA. It was founded in 1945 by Eugene Kirkpatrick and has been providing high-quality handmade pottery ever since.
The company specializes in creating functional stoneware pottery, including dinnerware, bakeware, and home decor items.
Each piece is made by hand using traditional techniques that have been passed down through generations of the Kirkpatrick family. The pottery is known for its durability, unique designs, and beautiful glazes that are both food and microwave-safe.
Cornwall has an extensive work background. In 1833, he started as an apprentice in his father's company. He then worked to explore the country for a few months and worked on flatboats around the Mississippi and Ohio River. 
Later on, he rejoined the family business and was involved in running a couple of potteries in Kentucky and Ohio. In 1859, he and his brother Wallace founded Anna Pottery. He was a potter and at the same time, also served as the manager mostly in charge of the daily operations, logistics, and accounting of the business. 
Aside from being a businessman and a potter, he ventured into local politics. He was inducted twice as a town trustee. In 1872, he became Anna's first-ever mayor and helped the town become a cleaner area through his advocacy of cleaning and expanding the building wells, landscaping, and street systems. 
Wallace Kirkpatrick
Wallace Kirkpatrick's knowledge of the pottery business was primarily thanks to his father. Just like his brother, he also explored the world, wherein he joined the Gold Rush in California. 
When he and his brother founded Anna Pottery, Wallace was in charge of the business sales. He was also the kaolin clay quarry manager. 
During his life, Wallace was a known snake enthusiast. He frequently showed his collection of live snakes in fairs and expos to attract customers to his pottery product displays. 
The Anna Pottery production was based in a two-story, wood-frame building. The basement level had the clay-grinding equipment which horses powered. The drying room was equipped with a hot air furnace, and the two kilns that have a capacity for 2,000 gallons each were also in the basement. 
Meanwhile, the upper level of the Anna Pottery building is where the storage space is located. The workroom wherein the pottery is made by hand is also at this level. 
In the 1860s, Anna Pottery had 11 male employees, producing pottery around 800,000 gallons per year. This figure is relative to the number of gallons that each container produced. 
The Anna Pottery was owned by the Kirkpatrick brothers from 1860-1896. The ownership remained in the family until 1900. Unfortunately, it was closed in 1910 when more people started choosing more modern and practical containers made of glass and tin. 
Anna Pottery Designs: Pigs & Snakes
You can recognize an Anna Pottery piece at first glance because it's an absolute standout due to its distinctive look. This is primarily because of the Kirkpatrick brother's handiwork, where they made pieces with realistic snakes writhing around them.
They are also popular for their pig-shaped flasks and drinking cups with frog sculptures.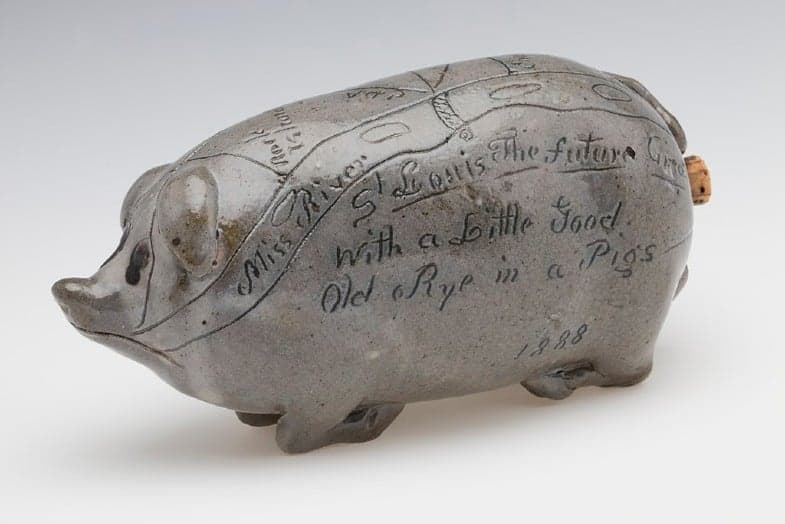 Pig Flask
There is no denying that the pig flask is one of their most popular pieces during their hay day. Today, it is also one of the most sought after pieces for many antique collectors that specialize in pottery. 
The pig flask in particular is primarily made to store whisky. Many of these flasks seem to be souvenirs or calling cards for distributions or bars. 
Metaphorically, the pig flask is used to represent the economy of the Midwest. It also depicts the views of the Kirkpatrick brothers when it comes to whiskey consumption. The connotation of the design and engravings in the pig flask suggests that if you drink too much alcohol, then you might end up like a pig. 
Snake Jug
Snake Jugs are liquid containers with a round body and a long neck which are similar to mugs found in England and Germany between 1550 and 1764. In the US, this jug style became a symbol of the Prohibition. If you are not familiar with Prohibition, it refers to the movement to ban the sale and consumption of alcohol. 
The message on the body of the flask has a theme of temperance that suggests public drunkenness and leads to delirium. Also, similar to the pig flasks, it suggests that whiskey is the devil's drink.
This design of Anna Pottery is highly associated with Wallace Kirkpatrick. He was a known collector of live snakes and he brought them with him to fairs and expos to attract more potential customers for their pottery business. At the same time, he also had with him his snake jug to show people. 
The Anna Potter snake jugs are often 10 to 12 inches tall. They have long bulbous neck shapes with bearded heads that protrude from their front shoulder. Another distinctive feature of these jugs is that they are covered with various snake densities with a bottom half of the human body that looks like it's diving into the jug.
Anna Pottery Marks: How to Identify Anna Pottery? 
A couple of telltale marks can help identify whether an Anna Pottery piece is authentic. This includes the following
Many of the Anna Pottery pieces have quotes that reflect Temperance. This refers to a particular religious and political movement in the US that called for a law to ban the production and sale of alcoholic drinks. However, this is quite ironic, given that many Anna Pottery pieces are flasks and were used to hold whiskey. 
Many of the Anna Pottery pieces are salt-glazed which is why it is common for them to have blue, brown, and purple finishes. This method of firing can be traced back to 15th century Germany. Pieces that undergo salt-glazing have a high-gloss and translucent look. 
As mentioned, Anna Pottery is known for its eccentric designs that have sculptures of pigs, frogs, and snakes. The theme of the pieces also reflects ideas about the love of nature, rural past, history, and temperance. 
Many of the pig flask Anna pottery has markings of roads and railroad on the body. For instance, their classic pig piece has patterns of Illinois road from the 19th century. That pattern also portrayed the cities along the road such as Cincinnati and Chicago. 
Anna Pottery Museum
The Anna-Kirkpatrick museum pays homage to the historic pieces that put the town on the map but also to its creators, the Kirkpatrick brothers. It is located at 107 North Main Street, Anna, Illinois.
The museum offers the largest permanent display of Anna Pottery pieces in the United States. It is also the only museum solely dedicated to the said pieces. 
Aside from the Anna-Kirkpatrick museum, the Anna pottery pieces are showcased in many museums across the United States. For example, the Metropolitan Museum of Arts has an Anna Pottery vase on view at their American wing.
Where was Anna Pottery Made?
During the mid-1800s, pottery locations needed two things. First, a nearby bed of clay. Second, access to rivers or rails for supplies and shipping. Anna, Illinois both have these requirements since it has a nearby brown clay bed and a big kaolin clay quarry.
Anna Pottery Value: Why is it Very Expensive?
Today, an authentic Anna Pottery piece in good condition costs between $40,000 to $50,000. However, there are extremely rare pieces, like the snake jug auctioned in 2014 that costed more.
In fact, the Leeds Art Foundation bought that particular piece for $87,400. There was even another snake jug piece sold in 2018 that was more expensive because it was bought for $141,000. 
Over the 5 decades of the Anna Pottery operation, the Kirkpatrick brothers have produced hundreds of one-of-a-kind pieces that are very attractive to collections.
What's even more special about the Anna Pottery pieces are their distinctive stoneware and eccentric design which is currently very popular in the market. Another reason why Anna Pottery is very expensive is that the American folk pottery, in general, is doing really well.
Final Words
To this day, the popularity of Anna Pottery among antique collectors and pottery enthusiasts is undeniable. Its unique and eccentric design makes it stand out pottery. On top of that, the artistry and the sculpture on every piece are truly immaculate.