Talavera Pottery Definition & 7 Interesting Facts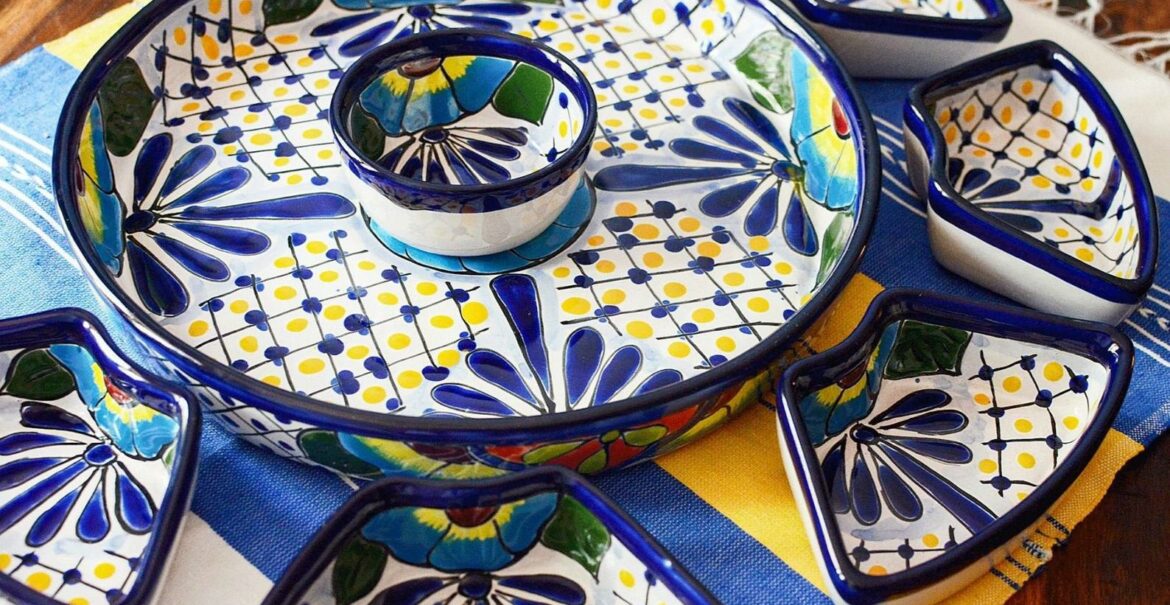 Pottery, as we know, is an art that has been absorbed by cultures so long that they have become integral. One such culture that has refined pottery to portray their rich culture is Talavera de la Reina of Spain.
This form of pottery dates back to the 16th century, and it has become a well-loved aspect of the culture of the people of Talavera de la Reina. From its creation, the Talavera potters have ensured that their treasured artwork remains as original as it is unique.
Talavera Pottery: Definition
The Talavera pottery is a type of pottery that employs tin works (dipping, drying, painting, and firing). The clay used is gotten and processed locally and thrown by hand on a wheel.
One major thing that has set the Talavera pottery aside from many others is the use of tin and lead in their glazes. In addition, after the glazing, only six specific colors (orange, yellow, green, mauve, blue, and black) are used for designs.
Another distinctive feature is that Talavera pottery leaves the bottom rim of its pottery unglazed. This, together with a mandatory stamp signature underneath it, are ways to identify Talavera pottery.
Design Principles of Talavera Pottery
Designing Talavera pottery is strictly in adherence to traditional rules, one of which is that only natural clays are used. This, along with the cobalt blue pigment for glazing, ensured the safety and quality of the pottery.
The entire process of designing and creating Talavera pottery is lengthy and requires extreme precision. The time it takes to finish one pottery, along with the type of glaze used, makes Talavera pottery highly sought-after.
Besides being traditional to the letter, makers of Talavera pottery have protected their art with a form of copyright law. In its crudest explanation, only pottery with the appropriate license from the Consejo Regulador de la Talavera is authentic.
History of Talavera Pottery
The history of Talavera pottery is intertwined with that of the Islamic Moors who visited Spain in the 12th century. The Hispano-Moresque pottery had a great deal of influence on the Spanish style of pottery then.
As the trade grew, Talavera artisans also decided to adopt certain styles from French and Italian pottery. Thus, after a series of modifications and adaptations, the Talavera majolica was developed, and the pottery business was established.
Historical records will show that there is some variation on the trustworthy source of the majolica in Spain. However, it cannot be denied that it has played a significant role in their style of pottery.
Some records show that the style was taught by monks who invited some Spanish artisans to teach them the trade. Other records show that the artisans from Spain already knew how to produce the majolica.
The majolica grew in fame as more monasteries were built, and the need for more unique, intricate designs increased.
Frequently Asked Questions About Talavera Pottery
Where Is Talavera Pottery Made?
Talavera pottery is made in Talavera de la Reina, in Spain. This is not to be confused with the Talavera Poblana, a blend of Spanish, Italian, and local ceramic methods. Although both go by the name of Talavera, only the ones made in Talavera de la Reina are recognized as the original ones.
This is because of the licensing rights obtained by ceramic artisans from Talavera de la Reina.
How Is Talavera Pottery Made?
Talavera pottery is made from locally gotten clay by mixing black Amozoc and white Tecali soil. Then, the mixture is washed and filtered to remove the fine clay particles. After removing the grit and non-clay element, its mass is significantly reduced, so it is an elaborate procedure.
After the clay has been appropriately processed, it is then correctly moisturized and thrown on a potter's wheel. After the clay has been fashioned, it is fired three times -the bisque firing, underglaze, and the overglaze process.
This process is long and error-prone, as any cracks in the bisque will result in irreparable damage to the pottery. Then, artisans would devote special prayers throughout the three to six months the firing process takes.
How To Identify Talavera Pottery?
Talavera pottery has two distinctive methods of identification. First, the bottom rim is left unglazed, exposing the terra cotta body. Whatever the rationale behind this was, it sure has become a way to identify Talavera pottery quickly.
Another unique property of Talavera pottery is that a comprehensive method of identification is inscribed at the bottom. At the bottom of every Talavera pottery is the inscription of the manufacturer's logo, location, and creator's initials.
Is Talavera Pottery Lead-Free?
No. Although regulatory bodies ensure that the lead content is insignificant enough, Talavera pottery still contains traces of lead.
It is still safe for use as serving utensils.
Is Talavera Pottery Food Safe?
Yes. The regulation of lead and cadmium is strictly adhered to, as only ceramics that pass these inspections can be approved for commercialization.
Is Talavera Pottery Microwave Safe?
Yes. Talavera pottery is fired at an initial temperature of about 1560 F, making it safe for microwaves and ovens.
Typically, pottery that has been fired at high temperatures is suitable for use in microwaves and ovens.
Is Talavera Pottery Dishwasher Safe?
Yes, Talavera pottery is safe to use in a dishwasher. However, it should be handled carefully so as not to damage it or cause them to fracture.
Conclusion
Talavera pottery, no doubt, has become a source of pride for the people of Talavera de la Reina. Even today, pieces of Talavera pottery are regarded as priced treasures by art collectors and curators worldwide.
As to whether they are valuable, yes, they are. Authentic Talavera pottery is a valued antique piece.
Although Talavera pottery has been declared microwave safe, only use it for short amounts of time. Also, try to minimize the use of pottery with cracks or chips.