Kent Pottery: Everything You Need to Know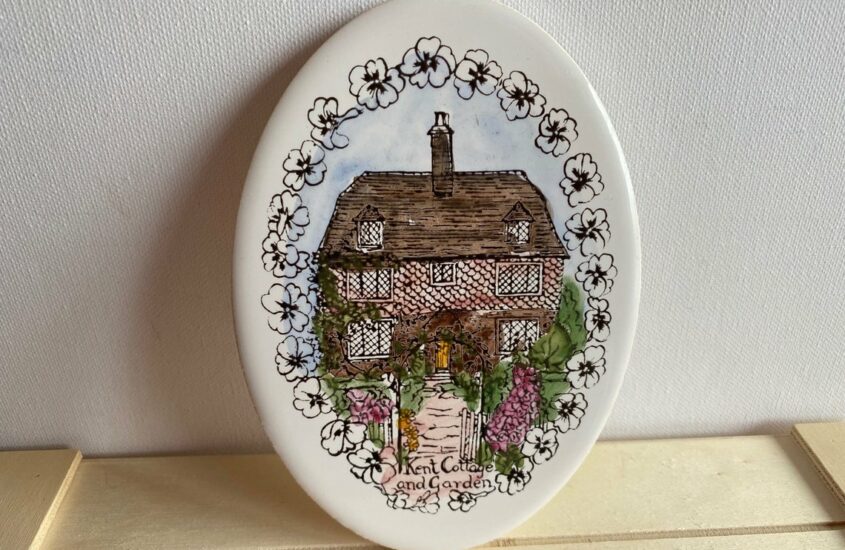 If you are new to the pottery world, you will often hear the brand Kent Pottery because it is one of the most sought-after names in the industry. However, what exactly makes it a classic, and what are the distinct features of Kent pottery?
To know the answers to these questions, continue reading this article. 
What is Kent Pottery? 
Kent Pottery is a brand of earthenware and porcelain manufactured by the company named Kent Pottery Ltd. It's considered vintage pottery because the brand is over 100 years old.  
Kent Pottery History
The history of Kent Pottery Ltd. can be traced back to 1897. It was founded by a man named James Aloysius Kent, who was born in 1864. He started the company together with 5 workmen from his previous company, Barker & Kent. Among those 4 men is Septimus Benett, the brother of Arnold Bennet, a popular novelist who wrote about potteries. 
His 4 sons later joined Kent in the company. The company continued to be a family-run business until 1981, even after Kent died in 1953. He was then succeeded by his second son, Philip Francis Ken, as the chairman. 
In 1985, the company was taken over by Morris Rushton, who was pottery and engineer. However, this was short-lived because, after 2 years, the company became a part of County Pottery PLC. 
In 1989, the company, which was then named Country Potteries, changed its name to Carton & Kent. These are the names of the men who owned the company: James Kent and Carlton Ware. During the same period, the company turned into receivership. The part of James Kent was bought by M.R Hadida Ltd., who also owns Hadida Fine Bone China Ltd.
Unfortunately, the company closed in 2008. 
Where is Kent Pottery Made?
Kent Pottery manufactured their earthenware and porcelain at the Old Foley Pottery, Stoke-on-Trent. Foley is a small district located near the boundary of Fenton and Longton. This is why some of their marks included the town names of Fenton and Longton at specific periods. 
In 1995, James Kent acquired the Foley China Works buildings sold by Wedgewood. These are just adjacent to Old Foley Pottery. By 2006, they fully transferred to the Foley China Works because Old Foley Pottery was demolished. 2 years after the company closed, the Foley China Works was also demolished. 
James Kent Pottery Marks
James Kent Pottery has distinct marks that indicate that they are authentic. However, what makes identifying them difficult is that these marks differ from one period to another. 
Here are some of the common marks that indicate that an item is an authentic James Kent Pottery according to their period: 
The marking "Royal Semi China James Kent England" was used from 1897 to 1915. It is written around the logo of the royal arms. 
The pattern name used during this era was Chrysanthemum, and the registration number dates all the way back to 1999. It also features an image of a crown with a shaded shield below. There is a sash that goes across that shield and has the initial JKL in it. 
"Ye Olde Foley Pottery JKL" was used for brand marking starting in 1905. This is written around an image of an ancient soldier with a helmet. 
The marking during this era was usually "FOLEY ROYAL JKL ENGLAND" JKL stands for James Kent Longton. 529477 was also the distinct registration number starting in 1908. 
Previous markings used "OLDE," but by 1910, the company started using "OLD FOLEY" to replace it. Sometimes, "Longton" was also used instead of "Fenton." 
The marking "made in Great Britain" was first introduced in 1936, and it was used until the mid or late 40s. During the same time, the marking "Du Barry," which signifies the pattern, was also used. 
In 1945, the markings on the James Kent Pottery featured "James Kent Ltd Fenton Made in England." The following year, the Pompadour pattern has the registration number 846345 included, which signifies that year it was first registered. 
The markings during this period often include "LTD" after the name James Kent. While others have "Longton" instead of the factory name of the pottery, which is "Old Foley."
In 1955, the Du Barry pattern of Kent Pottery featured a globe mark that has the initials J K in the middle. It also has markings in black ink that say "Old Foley James Kent Ltd. Staffordshire England." 
During this time, there is also some marking that says "ESTB 1689 Old Foley James Kent LTD., Staffordshire, England." However, the meaning of "ESTB 1689" is still unclear because the company was established in 1897. 
As mentioned above, James Kent was acquired by M.R. Hadida Ltd. in 1989. During this time, the common marking found on the products manufactured has "FINE EARTHENWARE JAMES KENT OLD FOLEY Est 1897 Staffordshire England" engraved into it. 
1997 marks the 100th year of James Kent Pottery. The items manufactured during this year have a distinct mark that says "100 Year Anniversary JAMES KENT Staffordshire, Made in England". 
Those products manufactured from 1999 onwards have a back stamp of an elaborate monogram. Also, the crown on the marking is noticeably open compared to those that are made before 1950 because the crown is shaded.  
James Kent Pottery Patterns
Throughout the years, James Kent Pottery has produced various patterns. However, some of their unique patterns include: 
Cydonia
Pompadour
Du Barry
Chrysanthemum
Is Kent Pottery Microwave Safe?
The majority of potteries are microwave safe. They will harm up, but they are less likely to break or explode. However, since many of the Kent Pottery are made even before the microwave technology was invented, use it with a microwave at your own risk. 
Conclusion
There you have it; those are everything that you need to know about Kent Pottery. You now have gained essential knowledge about it that will help you appreciate its significance and craftsmanship.